Bureau of Public Affairs: Office of the Historian: the Office of the Historian is responsible for the preparation and publication of the official historical documentary record of U.S. foreign policy in the Foreign Relations of the United States series.
American Foreign Policy - Vietnam: Site with hundreds of links to documents concerning the Vietnam War, beginning in the 1940s through current US-Vietnam relations.
World Ward I Documents: archive of primary documents from World War One has been assembled by volunteers. International in focus, the archive intends to present in one location primary documents concerning the Great War.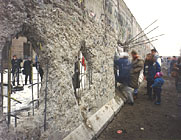 The Lost Border -- A Photographic Essay on the Fall of the Berlin Wall: beautiful photo essay capturing a turning point in the history of US foreign policy. The fall of the Wall was also the first step toward German reunification, which was formally concluded on October 3, 1990.
World War II Document Archive: links to documents, texts of speeches, communications, and memorandums from WWII provided by Mount Holyoke University. Documents span 1938-1944 and are not limited to documents involving the United States.